Image: 3rd Biography Room - Man of the Church
Biography Rooms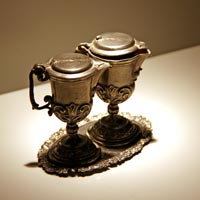 The rooms on the ground floor of the house are dedicated to the various stages in the Pope´s life. The Marktl Room leads you into the time of 1927 as well as into the place Marktl and sheds a light on the Ratzinger family. The second room focuses on his childhood and youth. And the third room presents the man of the Church.
---
Marktl 1927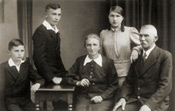 On 16th April 1927 Joseph Ratzinger is born as the third child in the Ratzinger family and baptised on the same day.
---
Childhood and Youth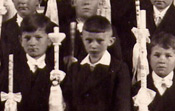 In 1929 the family moves to Tittmoning, in 1932 to Aschau am Inn and finally in 1937 to Traunstein. Looking back Pope Benedict describes the changing places where he lived as "pearls on a necklace." The deep sense of religion rooted in the family and the inhuman ideology of the National Socialists bring the wish of the young Joseph Ratzinger to become a priest to maturity. The original small jugs with which the two brothers played at Mass are to be seen in this room.
---
Man of the Church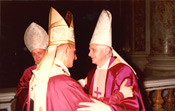 His entering the priests' seminary at Freising in 1946 is the beginning of his ecclesiastical career. In 1951 he is ordained as a priest. As lecturer and professor Joseph Ratzinger works in Freising, Bonn, Münster, Tübingen and Regensburg. In 1977 Joseph Ratzinger is consecrated as bishop and becomes Archbishop of Munich and Freising. In 1981 the call to Rome from Pope John Paul II to become Prefect of the Congregation for the Doctrine of the Faith catches up with him. Also in this period is his work as president of the commission preparing the Catechism of the Catholic Church (1986–1992).
19th April 2005: Joseph Ratzinger is chosen by the conclave of cardinals to be the new Pope Benedict XVI.
---