Image: Wooden floor in the birth room
Reflection Rooms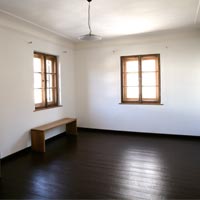 The whole life of Pope Benedict is infused with the marks of faith Three rooms located on the first floor of the house are invitations to further reflection.
---
Birth Room
The Birth Room is the place where on 16th April 1927 Joseph Ratzinger was born. Pope Benedict associates the name Marktl with the question of his roots. It "remains the place in which my parents gave me the gift of life, the place in which I took my first steps on this Earth, the place in which I was baptised on Holy Saturday and so became a member of the Church of Jesus Christ" (Cardinal Joseph Ratzinger on Whit Monday 1986 in Marktl).
---
Theology Room
The Theology Room focuses on the work of Joseph Ratzinger at the Second Vatican Council. Cardinal Frings, former Cardinal of Cologne, took the young theology professor from Bonn, Joseph Ratzinger, with him to Rome as an adviser. Ratzinger was important in bringing new movement into the teachings concerning the Church and divine revelation.
---
Papal Room
The Papal Room shows how Pope Benedict XVI understands his office. A name and coat-of-arms are obligatory. Pope Benedict translates the message of the Gospel into the present in particular with his interpretation of the ancient symbols of the pallium and the fisherman´s ring. The pallium represents the shepherd who carries the lost lamb on his shoulders and leads it to the water of life. The fisherman´s ring refers to Peter the fisherman, who representing Christ, became a fisher of men. This is the way Pope Benedict XVI sees his responsibility as the successor of Peter, leading human beings from alienation into the light of God.