The House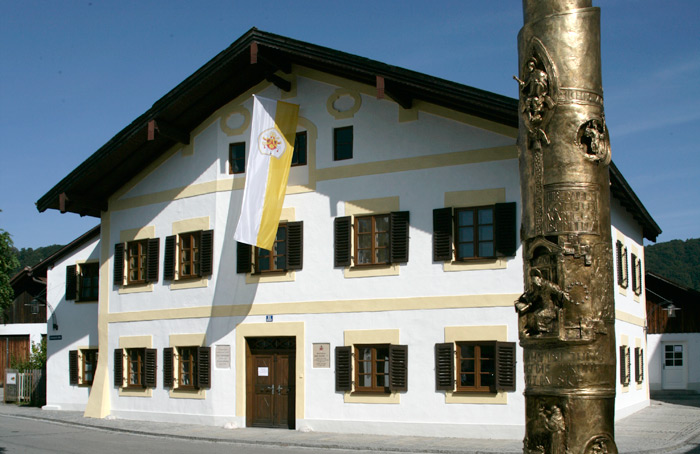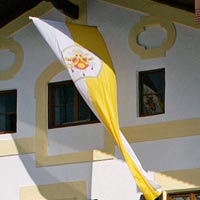 Pope Benedict desires for Marktl "a dignified meeting with the questions of our faith." When you visit the birthplace of Pope Benedict you will be able to experience how this papal wish has been realised. Every single one of the Pope´s words provides a conceptual reference point.
---
Dignified and Clear
Care is taken to create a dignified setting in the house. The form is simple and clear corresponding exactly to the ideas of Pope Benedict. The biographical stages as well as the theological positions are likewise presented with respect and care.
---
Meeting place
We wish an appreciative meeting with the guests coming to the house. Moreover the house is to be seen not so much as a museum but more as a meeting-place – and above all as a place for exploring and encountering the concerns of Pope Benedict. His life and his work are an invitation to such.
---
Questions of our faith
For this reason it is good when you come to the house with questions and we hope you find answers. We know that the majority of people coming to Marktl are moved by the question: "Where does the Pope come from?" When you are standing in the room where Joseph Ratzinger was born this question is at first answered. But hiding behind it is the basic human question: "Where do I come from?" Joseph Ratzinger has answered this question in his own way and invites us to reflect on our own origin. He says: "... even when the memories of Marktl have almost sunk into the darkness of early childhood for me,it still appears as the placein which my parents gave me the gift of life,the placein which I took my first steps on this Earth,the placewhere I first learned to speak,the placein which I was baptised on Holy Saturdayand so became a member of the Church of Jesus Christ" (from Cardinal Joseph Ratzinger´s sermon on Whit Monday, 19.05.1986 in Marktl).
---
Life as a Gift
Joseph Ratzinger spoke in a simple and clear way of life as a gift and that the first steps in life are important, just as important as growing into the family of faith.

I hope Pope Benedict will inspire you to find an answer to your question of "where from?"

Ludwig Raischl
former Theological adviser Pope Benedict House